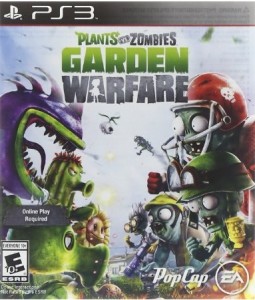 To help you pick the best video games for yourself in 2015, I want to provide you with an article from my friend, from the end of 2014. He always makes a great list of the best videos of the year, and I thought he had some great picks for 2014.
You'll see there is very little overlap between his list and our picks for Top 10 Video Games for 2015. This just shows the gaming field is diverse, and gives you more great games to choose from!
And now, here's Jason Hidalgo…
It's the end of the year yet again, which brings us to the latest iteration of the "Big Game List," where I list my top video games from this year.
In the interest of keeping things fresh, I decided not to include remakes among the top 10. Also note that I didn't play every game this year so don't freak out if your favorite isn't listed here.
Without further ado, here are my picks for the top console games of 2014. For titles with available reviews, click on the game's name.
10. Plants vs Zombies: Garden Warfare does a great job melding the charm of Plants vs. Zombies with solid third-person shooting. Add free extra content and limited microtransactions that won't eat your brains and you've got a pretty fun game for all ages.
9. Wolfenstein: The New Order: Take control of B.J. Blazkowicz as he fights the good fight in an alternate timeline where the Nazis won World War II. Let's just say there's no Disneyland in this alternate world. I'm a bit of an old-school guy and I must say that I really enjoyed this modern take on the classic first-person shooter. The solid shooting and production values are a plus as well.
8. Call of Duty: Advanced Warfare: Yes, I put a new Call of Duty game in my top 10. Hey, there's a first time for everything. Like a Michael Bay film in video game form, Call of Duty certainly knows how to create a cinematic experience. What sets this game apart from recent entries, however, is its addition of new mechanics to the top-notch shooting controls. It certainly wipes off the bad taste from Ghosts.
7. Dark Souls II: Prepare to die again and again and again as the famously challenging action-adventure game returns yet again to torment and delight gamers. Do you like button-mashing? Well, turn 180 degrees and run far way because this isn't the game for you. If you like dark, medieval action that will test you skills and patience, however, this game just might claim your soul.
6. Mario Kart 8: The game made by trolls for trolls, Mario Kart 8 isn't really a racing game. No, my friend, it's a survival game. Don't let those cute characters fool you, either. This game is all about survival of the fittest as you drift, glide and swim your way to victory while raining unholy carnage on your foes via evil items. Life's tough, kids. But it's also wickedly fun.
5. Persona Q: Hey, look, an original Persona game on the 3DS, and it's actually good! Instead of being a cheap cash-in game of the popular Japanese RPG franchise, Persona Q offers a solid experience worthy of a standalone Persona game. If you like classic turn-based action combined with dungeon crawling, this will feel like the return of an old friend.
4. Bayonetta 2: Is it possible to be naughty and nice? The scourge of school marms everywhere returns once again to raise eyebrows while dispensing some fun, fast-paced action. Its mature approach can be polarizing, for sure. Its actual gameplay, however, is excellent for fans of Devil May Cry-style action. It's the best pure action game of the year.
3. Middle-earth: Shadow of Mordor: One does not simply walk into Mordor. That is, unless you're the undead ranger Talion and his ghost elf buddy. Then you can waltz in all you want. A marriage of Tolkien's world with the gameplay of the Batman Arkham series, lovers of open-world, action-adventure games will like this one. Add the ability to directly mess with Orc politics via sabotage and mind control and you have a fun romp.
2. Dragon Age: Inquisition: As someone who loved the Mass Effect games, Dragon Age: Inquisition does an awesome job in recreating the experience that made that series special. I liked its vast areas, the hybrid combat system, the ability to tinker with various classes, and the relationships you form with other characters. This modern take on the RPG genre was oh-so-close to being my game of the year.
1. Super Smash Bros: Nintendo's crazy fighting game returns with its Wii U debut, bringing laughs, screams and bonding moments to living rooms everywhere. There really is quite nothing like assembling a group of friends and family to smack each other around with classic Nintendo characters and guests. Add excellent polish, solid mechanics and addicting gameplay to its near universal appeal and Super Smash Bros. gets my nod for best game this year.
Well, there you have it. The top 10 video games right now. If you're looking for a winner for yourself or your kids, you can't go wrong with any of these choices. Enjoy! To learn more about the top 10 video games of 2015, visit http://video-games.eastwestinternet.com now!
P.S. Probably the easiest way to learn more about these, read reviews from real users, or to buy any of them, is to visit Amazon.com, where you can do all of this and more. You can check it now by visiting http://video-games.eastwestinternet.com/amazon .
Original source of this article is http://www.usatoday.com/story/tech/gaming/2014/12/22/best-video-games/20749491/